Back to Blogs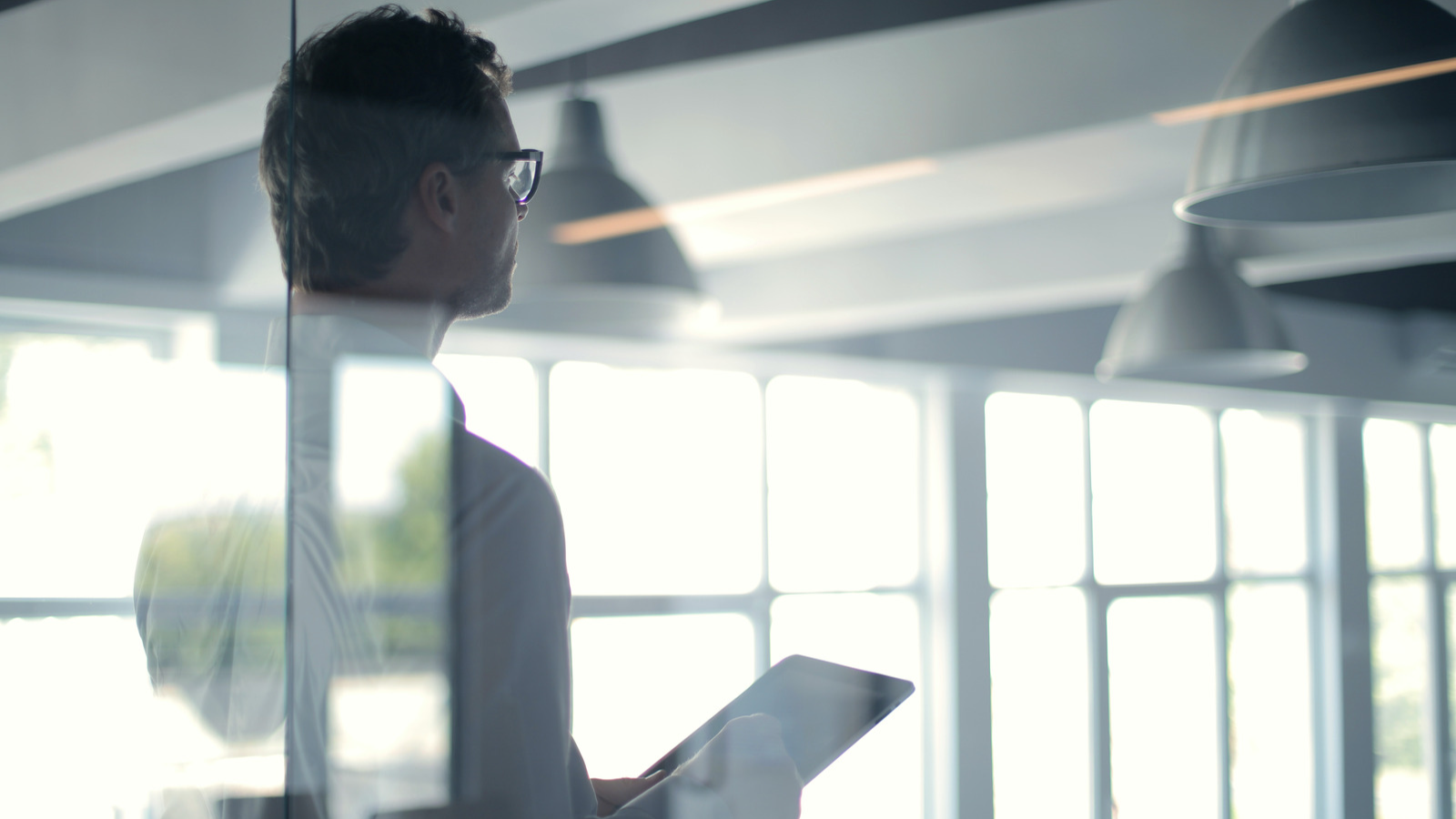 Avoiding Complex Project Failures: Tackling Complexity with Technology
​Avoiding Complex Project Failures: The case for change
According to the UK Government's own data, only 16% of complex Public Sector projects will 'probably succeed' and only 6% are 'highly likely' to succeed, with the picture largely the same in the Private Sector too.
It's no secret that the causes of Programme and Project failure have changed little in the past 20 years, with common issues including:
Lack of visibility of when Programmes and Projects breach Time, Cost and Quality tolerances so timely correction is impossible

Poor understanding of Compound Risk across a portfolio of deliveries linked to benefit delivery

Poor understanding and management of external and internal cross project dependencies

Poor Critical Resource Management: both human and physical resource to enable optimisation and avoid clashes in use
​
If the causes of failure are so well understood, why can't they be addressed?
The answer lies in the complexity of Portfolio, Programme and transformational Project Management (P3M).
Complexity, in terms of technical solutions involved, huge numbers of stakeholders with competing demands and needs, financials – the list goes on.
To avoid P3M failure, technology can help enormously. Cheap, affordable solutions are available to ingest and normalise a myriad of data sources to provide not just visibility of Portfolio, Programme and Project status, but also provide insight into future outcomes, allowing leaders to model scenarios to decide on the best courses of action.
Coupling over 20 years of Portfolio, Programme and Project Management and Recovery experience with our expertise in digital technology exploitation, Step5 is able to provide our 'Insight Platform' – an out of the box solution to identify and prevent the causes of P3M failure. But technology is nothing without people.
In a 2022 report, Gartner® identified, "Executive leaders must form a separate Program Office to align and orchestrate execution across workstreams and organizational silos." Coupled with technology, a Programme Office offers an inexpensive insurance policy for successful P3M.
We believe Step5's Insight Platform integrates a large proportion of the Programme Office (PO) functions outlined in the Gartner report, automating a number of PO functions to reduce the cost.
The Step5 Insight Platform solves the Visibility / Risk Management problem by providing a layered, real-time view of P3M performance and risk, to move from management by hindsight to insight. This involves creating and automating data streams from Project Control Documentation to populate a data repository. Data Analytics drives insights through static and trended reporting at project, programme, and portfolio levels.
Automated reporting and alerting continuously assures the quality of project control documentation on which P3M performance is reported. Integrated alerting advises predefined stakeholders when a project, programme, or portfolio variable breaches predefined tolerances.
Quality and performance views can be tailored to meet stakeholders needs by summarising data in line with their role and drill down capability supports interrogation to understand the detail behind an alert.
The following is an extract of a risk reporting dashboard which helps visualise the risk landscape across a portfolio. Additional views support compound risk assessment and analysis by individual project, and programme.
​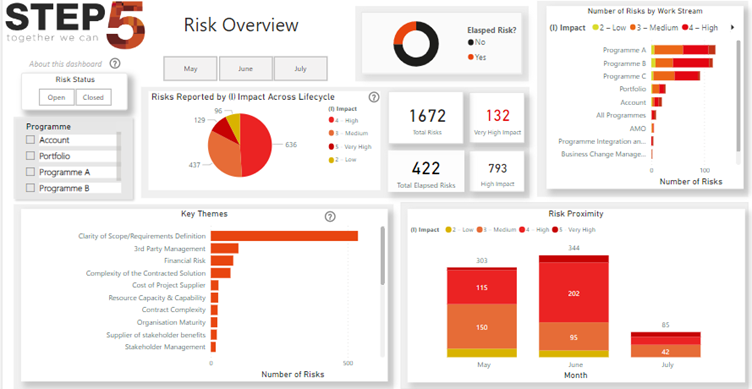 ​
The Step5 Insight Platform solves the Dependency Management problem by tracking and identifying baseline variance to enable earlier remedial interventions. Furthermore, it supports the simulation of missing an internal or external dependency, mapping the associated risk. Digitising PMO dependency tracking enables automated tracking of 100s of dependencies with alerting aligned to the impact of a movement from baseline. Early identification of slippage and potential impacts enables simulation to optimise mitigation.
The following figure illustrates dependencies reported against a programme and supports comparison of baseline and forecast profiles. This graphic illustrates the movement of dependencies from baseline by reviewing the profile or selecting a specific month.
​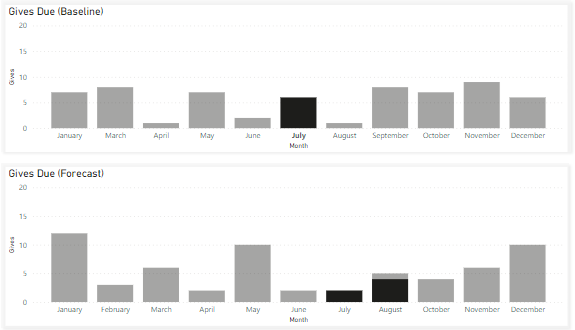 ​
A paper published in 2022(1) identified that, "A problem in a single technological component can lead to chain reactions in which other interdependent components are affected, causing substantial overruns." Dependency Management is critical to project success, allowing for precise problem identification and the flexibility to react at speed.
​
Solving Critical Resource Management through the Insight Platform
Management of resources to maximise utilisation is important in business. In P3M, managing the availability and usage of critical physical or human resources is key to delivering to time, cost and benefit. Examples of critical resources are people with scarce skillsets, equipment in short supply, or rail network blockades. To be successful, a business must optimise the utilisation of such resources to maximise value delivery.
Identifying and digitising the management of Critical Resources enables clear visibility of assignments, availability, booking, and if necessary, prioritisation.
Digitisation through the Insight Platform reduces the cost of management and supports utilisation reporting, bottleneck management, prioritisation, and investment decisions.
These are just three examples of the digitised PO and the ways in which technology can be used to breakdown complexity to a manageable level. Step5's Insight Platform is an off the shelf solution that solves all three problems and more. If businesses are looking to invest in, or establish, a PO, they must consider their options for digitisation. Step5 consultants can support the formation of a PO, and the deployment of the Insights Platform, working with an existing team, or as part of a packaged service.
​
Interested in learning more? Click here, or talk to our Head of PMO Services, Ed Arrowsmith, today.
​
​
Gartner, Lead Digital Transformation Execution With a Program Office, Joanne Kopcho, Sarah Davies, 25 August 2022
GARTNER is a registered trademark and service mark of Gartner, Inc. and/or its affiliates in the U.S. and internationally and is used herein with permission. All rights reserved.
(1) Bent Flyvbjerg, Alexander Budzier, Jong Seok Lee, Mark Keil, Daniel Lunn & Dirk W. Bester (2022) The Empirical Reality of IT Project Cost Overruns: Discovering A Power-Law Distribution, Journal of Management Information Systems, 39:3, 607-639, DOI: 10.1080/07421222.2022.2096544