Back to Blogs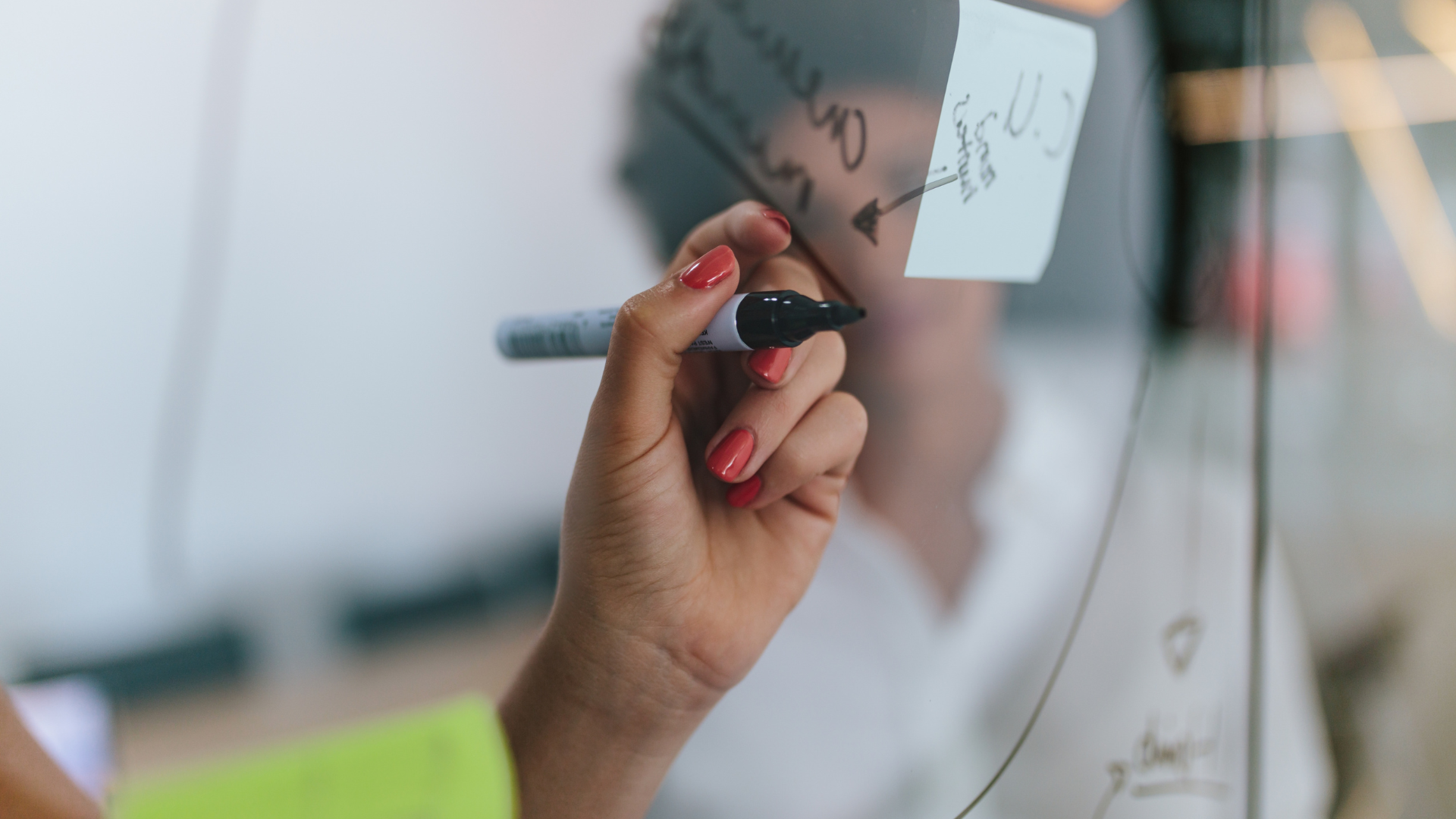 How to define your PMO and drive value
​Strategy Portfolio Management is critical to creating tangible Business Value, and PMOs are a key enabler. But how do we ensure they are effective?
Research published by Gartner® identified, "Digital businesses that do not adopt Strategic Portfolio Management (SPM) capabilities are at risk of not creating tangible business value." Large organisations are complex and unique in terms of strategy, delivery engines, organisation structure, risk appetite, and maturity. They all, however, face a similar challenge; their marketplace continues to evolve. Digitisation is accelerating the pace of change and a company's ability to spot a change in its ecosystem early, and its agility to respond at pace, will be critical to future business success. The PMO has a key role in both aspects.
Gartner identified what it terms 'Enterprise Programme Management Offices' (PMOs that meet the needs of all areas of the business) as critical to driving the successful execution of business strategies.
PMOs are critical to the delivery of Strategic Portfolio Management and business success but are frequently misunderstood and poorly executed because they're not aligned to the unique and complex nature of the business, aren't structured appropriately, or don't evolve with the business.
Accepting PMOs are key to supporting business success, the following three areas must be taken into consideration during their formation:
​
1. Mandate: What are the benefits and / or value the PMO needs to deliver?
The following key elements should be considered in defining the PMO's mandate:
Are EPMO services required to support investment and prioritisation decisions to maximise value delivery against business-critical resource – human or physical?

Will EPMO services drive strategy and outcome realisation?

Will EPMO or PMO services be required to track and report on the overall business portfolio performance, alignment to business strategy, and benefit realisation?

Are EPMO services required to deliver the agility to understand and impact changes in the business environment (e.g. COVID)? Make recommendations on how to pivot the portfolio optimising the use of critical resource to deliver the greatest business value.

Are there internal or external dependencies across suppliers, departments, programmes, and projects leading to integration issues? By not managing these, is there a material risk of variation to time, cost or benefit?

Would PgMO services provide benefit through resource management and prioritisation, governance, consolidated performance reporting?

What is the current level of variation to time, cost and benefit and how could EPMO or PgMO assurance services be used to identify issues earlier, reducing the cost of remediation?

Are project managers engaged in multiple routine activities that impact their value add(e.g. schedule updates, reporting)? Could PSO services reduce the cost to serve and increase PM value add?

Will the proposed business strategy and change impact the evolution of PMO services in the future?
​
2. PMO Structure: How does the PMO fit within the existing business to deliver its mandate?
Gartner published the '2022 Strategic Roadmap for the EPMO' which focused on the need for "Strategic portfolio leaders to help enterprises achieve ambitions by orchestrating continuous delivery and enhancing business acceleration. An EPMO provides the structure to ensure strategic goals are achieved through management, governance and enterprise-wide portfolio management."
Included below is the Gartner 2022 Strategic Roadmap Overview for the EPMO, illustrating how EPMOs are likely to have to change in forthcoming years moving from Directive to Adaptive and then Dynamic management.
​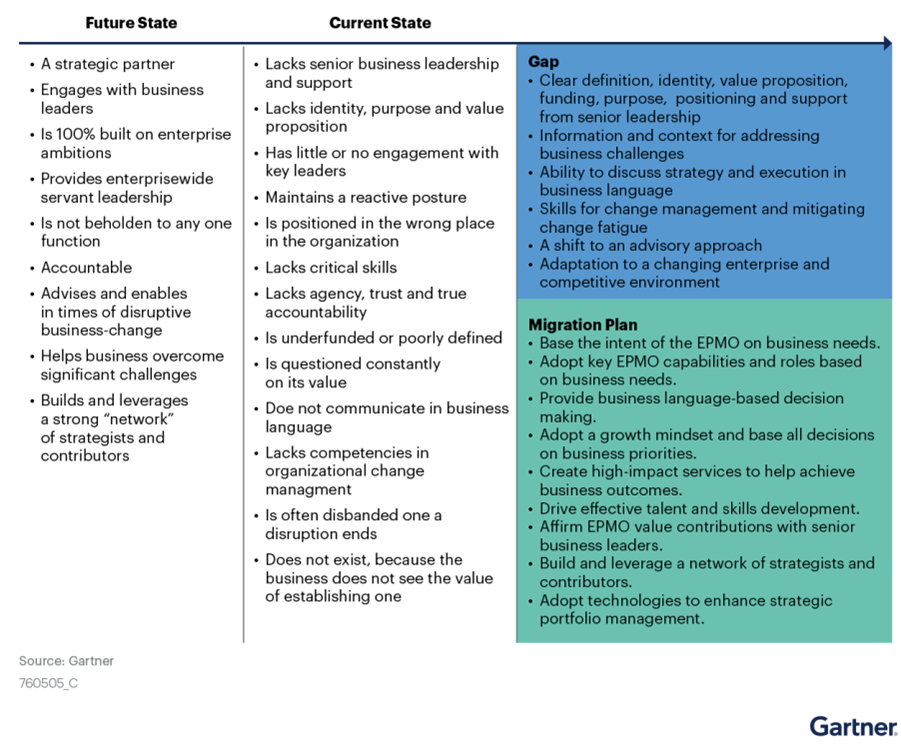 ​
The PMO needs to be structured to meet the existing business needs, in line with the mandate. It must also be capable of evolving to meet future needs.
In assessing how to structure the PMO key elements for consideration are:
What key functions or services will the PMO deliver under the mandate, and will this be through an EPMO, PgMO, PSO or a combination?

How do you minimise the impact of each service on the organisation and what provides the PMO authority to execute?

Is the business product or project focused, many operate both? How will PMO Services align to the different and potentially changing approaches and their associated delivery methodologies; agile, waterfall, bimodal?

If resource management is a 'PMO' service, how will it need to manage Product and Project deliveries where resource models are different? Product is predominantly based on a fixed resource pool, demand driven. Is there a separate EPMO structure to cater for critical resource management?

How large is the portfolio? Whilst there is normally only one EPMO, there may be many PgMOs, and potentially one or a number of PSOs. The benefits of centralised vs federated models must be considered alongside the need to maintain the thread between business strategy alignment and performance in execution.

The orchestration and support of governance activities are key functions of PMOs. Which PMO office should own each governance activity and metrics, and how do these interlock and consolidate?

Effective change management maintains alignment to the business strategy. Devolved decision making with clear guide rails aids speed in decisioning to maintain agility. How does the PMO structure ensure efficient change execution and speed in decisioning?
Is a directive, adaptive or dynamic approach required? Organisation culture, maturity and methodology will help determine the approach and thus structure.
​
3. Team: Which roles are key to delivering value?
Having defined the mandate and structure, focus is now drawn to the PMO team. The team will have to evolve with the business. Furthermore, as the P3M profession pivots towards digitised PMO services, with automation, roles will change and staff must be capable of upskilling to remain effective.
Before selecting the team, review how many of the services can be digitised or automated. Many of the roles traditionally performed by the PSO and PMO, in terms of coordination and reporting, lend themselves to digitisation with automation. A core team must be capable of implementing, maintaining, and growing the digital footprint of such services. Such specialists are referred to as Project Data Analysts (PDAs).
To maximise the value each role will bring, the team(s) need to be built with multiskilled resource to maximise utilisation whilst minimising the impact of a team member leaving. Noted, this may impact structural decisions around centralised vs federated made earlier.
The EPMO or PMO is typically the custodian of P3M standards and processes. This may include the assurance of projects and programmes. To be effective assurance, staff must be practitioners who understand the benefits of different approaches to tackling a problem and be skilled in project / programme recovery.
Traditional assurance activities conducted by junior staff (e.g. ensuring correct templates are used and scheduling standards followed) should be automated through the Project Data Analytics team. This will provide low-cost real-time assurance through analytics, enabling earlier identification of potential deviation. This helps direct higher cost assurance practitioners to focus efforts on projects with the highest risk to time, cost, and benefit achievement.
Assurance staff must also be adept at supporting Project and Programme Managers in helping them turn around failing projects, empowered to call on additional support to support a culture of identifying the root cause of an issue, with a timely fix to minimise cost.
​
Looking for support?
PMOs are multifaceted and the unique nature of a business, its strategy, and maturity mean every PMO will be different in formation.
Formation needs to be focused around a mandate centred on driving alignment to the business strategy whilst monitoring and reporting on portfolio health and benefit realisation.
Structuring the PMO must give focus to delivering services which add value at minimal cost. These must integrate seamlessly with product or project focussed implementation approaches and be capable of operating with different delivery methodologies. Governance and change must be effective but not bureaucratic with a minimal impact on an organisations speed and agility to respond to new threats leading to changes in strategy.
Teams must be multidisciplined with Project Data Analytics being a core of the team. PDAs will drive insight and reporting replacing some of the traditional PMO roles to enable focus on higher value activities such as assurance which supports identifying and fixing project problems before they materially impact cost, time, or benefit delivery.
Step5 has worked with multiple organisations to help define and establish effective PMOs, as well as recovering those deemed failing to deliver the benefits anticipated. With a track record of success, our experts are ready to guide and support you as you define your PMO.
​
If you would like to know more about Step5's PMO services and how we can help you achieve your ambitions, contact us today.
​
​
Gartner, 2022 Strategic Roadmap for the EPMO, Daniel Stang, Sarah Davies, and 5 others, 24 March 2022.
GARTNER is a registered trademark and service mark of Gartner, Inc. and/or its affiliates in the U.S. and internationally and is used herein with permission. All rights reserved.